I know that you love your child and want to give them all the support they need in life.
The question is: when are they experiencing a "normal" response to life's many inherent difficulties as part of growing up and when might they benefit from therapy or counseling? You don't have to figure this out alone, I can help you to sort through this. Call me to schedule a free 1/2 hour consultation: 707-331-5246.
Children and Adolescents communicate their needs in indirect ways. Often acting out or acting in behaviors are a cry for help. Sometimes these behaviors will develop as a response to an identifiable event in your child's life, though often the event is unknown. One of the greatest gifts you can give your child is to help them get the support they need when they need it. Tending to their needs in this way lets them know that you are paying attention and how deeply you care about them.
In my therapeutic work, I have seen children emerge from enormous adversity in their lives with resilience. I have witnessed their innate capacity for healing and growth. When given the space, materials and quality of attention they need, children gravitate towards their own wholeness and health. This principle guides my work and has been an inspiration in my therapeutic work with adults as well.
I work actively in sessions with children and adolescents to assess and attune to their needs. I draw from current theoretical models of Play Therapy, Expressive Arts Therapy, Sandplay Therapy, Somatic Psychotherapy, Client Centered Therapy, Attachment Therapy, and Family System's Therapy in order to build resilience, grow self-esteem, access resources, regulate emotions, process traumatic material, and to relate with self and others in a positive way. I include the parent in treatment as needed including parent education, collateral sessions, dyadic sessions and/or family therapy.
Call me at 707-331-5246 to schedule your free 1/2 hour consultation where we can discuss how I can help support you, your child and your family.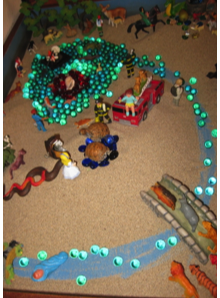 In need of support?
Some signs that may indicate your child is asking for support:
School Problems
Acting Out (Hitting, Yelling)
Acting In (Self Harm)
Shifts in Mood
Difficulty Paying Attention
Seeming Preoccupied
Worrying
Withdrawl
Emotional Outbursts
Physical Complaints
Change in Eathing Habits
Low Self-Esteem
Conflict with Peers or Siblings
Conflict with Adults
Substance Use
Difficulty Sleeping
Few Friends
I have helped children and adolescents who have experienced:
Separation & Divorce of Parents
Re-Marriage/Blended Families
Death of a Loved One or Pet
Recent Relocation
Anxiety
Adoption
Depression
Failing Grades
Body IMage Issues
Trauma
Sexual Abuse
Physical Abuse
EMotional Abuse
NEglect
Witnessing Domestic Violence
Sensory Integration Issues
Developmental Delays
Lani Lee, MFT
Child and Adolescent Psychotherapy